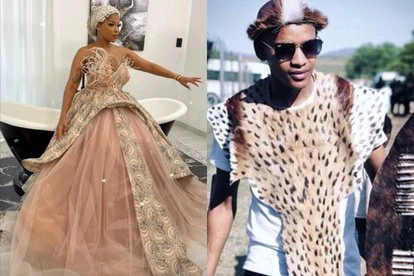 Social Media influencer, businesswoman and dancer 
Faith Nketsi
 's love story hasn't been in the clearest of lights, especially with the cops. Right after marrying fellow businessman 
Nzuzo Njilo
 a couple of weeks ago, 
Queen Twerks
 ' name has made countless runs around local tabloid reports with fraud rumours and allegations against her spouse circulating. It is reported yet again that Mr Njilo is in hot waters again with the correctional authorities. The popcorn room reported that
Faith's husband Nzuzo
 is currently in police custody following alleged charges of fraud.
Nzuzo Njilo who is the spouse of digital media personality Faith Nketsi-Njilo
, is supposedly facing a fraud allegation of close to R1 Million. The case which started making social media rounds a month ahead of the pair's wedding is being brought back to the timeline after reports by entertainment blogs and mainstream publications claiming that Nzuzo is currently in police custody.
It was alleged that Njilo scammed Johannesburg company owners of close to R1 million just a month before his grand wedding to wife Faith Nketsi-Njilo. Nzuzo is well affiliated in the business and political industry with his father being Themba Njilo, a former mayor of Msunduzi Municipality. Themba is also the politician who was forced to resign when the ANC removed him from his position.
Nzuzo is also involved in the Themba Njilo Foundation, which is run by his father. His father established Nduduzo Funeral Services in Edendale in 1998. Nzuzo is currently assisting his family in the operation of this firm.
According to a report made by the publication, City Press, Njilo
was charged with fraud by his business partners Blaine Evans and James Stephens. After reportedly failing to honour his end of an R978 104 botched business deal in March, he was arrested.
Evans allegedly said that he and Stephens had reached an agreement to buy copper concentrate from Njilo's company, NN Chrome Mining, through their company, Lund Industries.
Evans reportedly told the City Press that he sent the money to Njilo's Absa account for the order of copper but it was never delivered to him.
"I met him through a mutual friend at Bowl'd Restaurant at Masingita Towers. He told me that he was in the trucking business, and so am I, so I thought: 'Okay, this is cool.' He also told me that he owned a chrome mine," he said.
"We were in steady communication and had another meeting at Tang in Sandton, which he attended with Faith. We talked a little and discussed a few business deals," he continued. The media personality has not weighed in on the rumours and allegations about his husband's business endeavours but has however removed her husband's name Njilo from her Instagram bio a few days ago. Tweeps noticed and brought this to her attention, in hopes to fish the tea but Faith shut them down with her response, "Lol you guys are so observant, well I haven't changed it on my ID so I'll bring it back after that. I realized that I want to actually soak that moment in when it happens."